Dave Friedkin
August 14, 1961 - February 23, 2003
The following is from Leslie Friedkin, Dave's wife, at his memorial service...
My David
Thank you all for being here today. I cannot begin to express my thanks to all my family, friends and colleagues for all your love and support over these last few terrible days. I also want to thank the Friedkin family, who welcomed me with open arms from the beginning and who are the reason David Friedkin was such an extraordinary man. I hope to thank each and every one of you later, but for now, I'd like to talk about my Dave. PLEASE FORGIVE ME IF THIS IS RAMBLING. IT'S INCREDIBLY DIFFICULT TO PUT MY THOUGHTS TOGETHER.
August 14, 1961 – February 23, 2003. Stephanie once sent me an e-mail about what that DASH represents between those dates. It was a reminder that while significant, those start and end dates don't represent who we are…it is everything else in between, and it was a lesson that how we live our lives and how we give love is all that matters. Dave didn't need to be worried about HOW he lived his life or the love he gave…he packed more into 41 years on this earth than people do in many lifetimes.
I would like to tell you about a couple of significant dates in our lives. December 31, 1995….our first date. Yes, New Year's Eve. Who asks a girl out two days before New Year's Eve without any qualms? Dave. I mean it's a big night…not the usual time for a FIRST DATE. He didn't care, he always asked for whatever he wanted.
We had a wonderful time, and I kid you not, by the end of the night, I had no doubts that we would be together always. In fact, we didn't look back…from Day One. We were always just Dave and Leslie from that time on.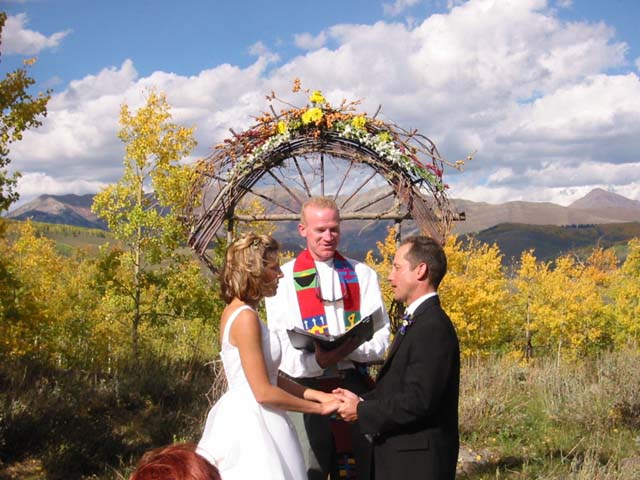 We were married on September 15, 2001 in Crested Butte, Colorado – four days after another significant date in history. On September 11, we paused like everyone else in the country – and even considered postponing our wedding day.
Well, we considered that for maybe a minute. We were in Colorado – TOGETHER with the dogs, and we decided that was enough for us. If it was to be only us, the dogs and the florist, so be it. We were a family, and we wanted to share our vows and commitment to one another. We went and picked up our marriage license on that fateful Tuesday in September.
Fortunately, about 40 people were able to travel to the quaint little town of Crested Butte for our ceremony. Without a doubt – and with all objectivity – it was THE BEST DAY EVER!
There in front of our families, friends, our dogs and nature we were married on the side of a mountain among golden Aspen trees burning in the sun on this fall afternoon. THIS was what life was about…in stark contrast to the events of four days earlier. The ebb and flow. Life was great.
I would like to share all the many wonderful qualities about Dave that made him one of the most amazing people on this planet…and now beyond.
By now, you all know how loved, cherished and kind he was. He touched so many lives. In fact, I used to tease him that even if a person met him on the street for five minutes, they'd recognize him later….or would remember meeting him. It's no exaggeration. I don't know if it was those incredibly beautiful blue eyes or that intense gaze or how he listened to you and only you while you were talking to him. (Though you didn't dare TRYING to have that conversation with him in the morning BEFORE his coffee and New York Times. Believe me on this one!)
Everyone just loved him…from the kids in the neighborhood, to friends of his parents, to people who had different political views, to all animals – except the day he met Helena's dog, which tried to bite him. Well, Dave wasn't mad at the dog…he was mad at himself for not properly introducing himself to Graciela!
I have to say that Dave was somewhat contradictory – he loved BIG adventure but he also loved the little routines in life. Qualities shared by those beloved dogs of his.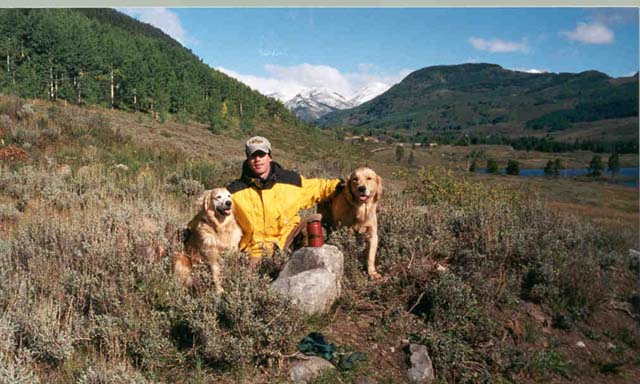 I wouldn't do his life and memory justice if I didn't share and express his undying love for Stetson, whose death last year just devastated us; Aspen, "little girlie"; Colt, the "litte man" whose destruction of our furniture was done with a smile and to Savannah, Marilyn & Bernie's gentle girl who passed away last month.
Devotion and undying commitment don't even come close to describing his feelings for these dogs. When Stetson died, he said he felt better about dying himself knowing that he would be able to romp around with that big boy again.
Roberta used to say that when she died she wanted to come back as one of Dave's dogs. Oh what a life you would've led, Bert.
And, I can't forget to mention how, EVERY TIME he left the house, and no matter how long he'd be gone…10 minutes or 10 hours, Dave would ALWAYS say this to Aspen: "I'll be home little girlie, I promise."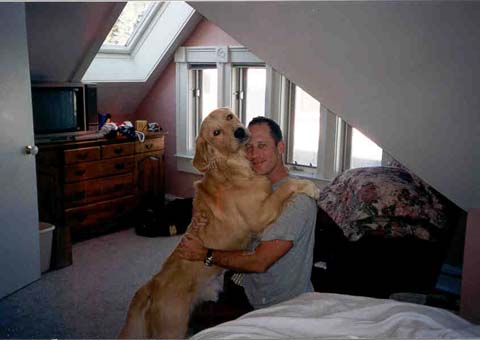 The dogs gave him such joy and of course they returned and continue to return that love every minute of the day. Just like him.
Dave appreciated the little things in life: A walk with the dogs, planting trees in our yard, making dinner with me, going to the movies, constantly taking pictures of the dogs and nature, gazing up in the sky at outer space, reading his New York Times, going up to North Carolina to just hang out with his parents, visit our newly-purchased property (and dreaming of the log cabin that he wanted built the instant we bought the land!) and oh yea, ride that bike of his.
He always told me that he was a simple man but I can't even express to you how untrue that was.
The biggest gift Dave Friedkin gave to me was humor. Simple as that. He had me laughing constantly -- even if I was trying to be angry at him, and dammit it always worked. I could never be mad at him for more than a few minutes. We should all have that quality of being able to laugh at ourselves and not taking things so seriously. He helped me do that EVERY DAY I KNEW HIM.
Once again, however, Dave was contradictory, he was so serious about his passions in life…taking care of the dogs, getting to the mountains to ride his bike and loving me. I knew it from the beginning. We didn't have to talk about these things. We're both independent and strong people, but in all honesty, we were two halves that made each other whole. Half of me is completely broken now.
He also contradicted himself on how he felt about people. He felt that there were too many people on this earth destroying the natural resources of the planet, and that Man's destiny was not a good one.
But, oh, how he loved people. He talked and listened to EVERYONE. And, I can tell you that it was GENUINE. I used to joke to him that no matter the social occasion, and even if he didn't know anyone there, we would be the LAST ones to leave the party or the parking lot because Dave was interested in EVERYONE'S stories. He truly loved people.
He also loved his family so much. I've never seen someone so close to his parents. They were his friends, and he admired both of them immensely in every way. He also cherished their words of advice…well except when it involved a political discussion at the dinner table with Bernie. They loved to argue about EVERYTHING but they'd do it as a sport almost, and the heated discussions ALWAYS ended with laughter!
And, Marilyn, he admired all your work for social causes, the arts and your work with animals. Of course, he didn't mind your home cooking whenever we went to North Carolina either. He would so look forward to driving up there on a Friday night so we could get there in time for one of your just-thrown-together gourmet meals!
To Brad, Roberta and brother Lambert…he loved you all so much. I'm so sorry that he always forgot your birthdays. But, I thank each of you for calling to remind him that he always forgot your birthdays! Brad, I'll now have to remind you that it's quiet time! In end, he so looked up to both you and Roberta.
As I've said, I've never seen such a close bond between family members. And, Lambert, I include you in there because you know that you were so much more than a brother-in-law to him.
I've talked about his love of the dogs, his family, and you already know about his passion for cycling. I also want to mention his love for nature. Dave was and is one with this earth and beyond. He saw beauty everywhere, from the old, mystical mountains in North Carolina, to the grand, sweeping vistas in Colorado, to the leaves and sticks on our property, to planting a gardenia in our yard and to our dogs and the way their beautiful golden fur looks running in the wind.
A love of nature was just innate with Dave. I remember when we got the word that Stetson was gravely ill, we took a red-eye flight home from Colorado, missing Roy and Jennifer's wedding, and then we had to make a three-hour drive to North Carolina to pick up Stetson and take him to the U. of Georgia, where later that day, they would diagnose him with a massive tumor over his heart. Dave and I were making the drive to N. Carolina, after the longest night of our lives. I was driving and Dave was in the back, as I begged him to get some sleep so he would be strong when he saw Stetson. I needed to stop for gas, and as I opened the door, I noticed Dave, in a daze, get out of the van and just ramble over to a little bird that had fallen. Without missing a beat, and in a stupor, he just happened to see the bird, scooped it up and took him out of harm's way after which he crawled back into the van.
Dave saw the beauty in nature everywhere and made sure to tell me to keep looking out for small things. He was always also on the lookout for bears and snakes on the mountain bike trails. In fact, he was the only person I knew who actually looked forward to meeting up with a bear on the trails.
I could go on forever about my Dave…it was that way during his life – I loved telling "Dave" stories – and it will be that way until I leave this earth.
I used to tell Dave that the priorities in his life went like this:
1. The dogs
2. Riding Bikes
3. Leslie
4. Coffee
Well, at least I beat out coffee!
People often tell me that I'm wrong about that list, and that I was number one in his life. I do know that he loved me immensely, and I never questioned or doubted that for one minute when he was living. I knew it then, and I know it now. I hope when you died you saw that.
But, you know what? I'm ok with dogs and bikes beating me out on the list. What better passions to have in this life?
There are so many adjectives to describe Dave: caring, gentle, hilarious, bull-headed, forthright, honest, so intelligent, athletic, proud, kind, argumentative and most of all GENUINE and PURE. What you saw was truly what you got, whether you were a family member, a friend, a co-worker or a customer.
I cannot express the sadness and sorrow in my heart on this day, but I hope I expressed my undying adoration and love to you…in life…and in death. You will be in my heart forever, and that's the only thing holding that organ together. I know that you know how very deeply I love you, and I will forever.
I promise to watch over the things you love, and don't worry, I'll tell "Little Girlie" you'll be home soon.